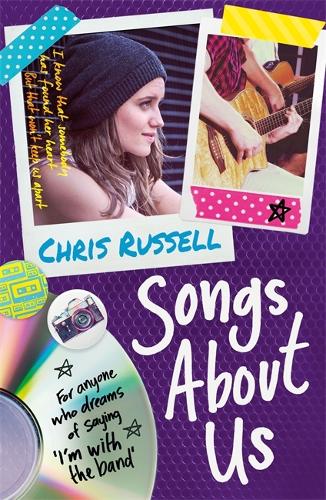 Two months on from the explosive finale to book one, Charlie's life is almost back to normal again: rebuilding her relationship with her father, hanging out with best mate Melissa, and worrying about GCSEs. All the while, Gabe's revelations about her mother are never far from her mind. And neither is Gabe.
It's not long before Charlie is pulled back into the world of Fire&Lights – but the band seem different this time. But then again, so is she…
Meanwhile, tensions between Gabe and Olly continue to run high, leading to more turmoil between the band members and press than ever before. But when Gabriel and Charlie stumble upon yet another startling truth that links them together – everything they have stands to implode in front of them.
Spoilers for book one in the series below
Note: I received this book via NetGalley from the publishers in exchange for an honest review.
In Songs About a Girl, Chris Russell introduced us to the smash hit boyband, Fire & Lights. Theirs is an X-Factor generation inspired story, and the first book explored the world of the four members through the eyes of their new photographer, Charlie Bloom.
In Songs About Us, the author ups the stakes for all involved and introduces plenty of new characters to this fast-paced world. This is a fictional world, but it leans heavily on all manner of celebrity scandal storylines that have existed in some way or another in modern pop culture and it makes it brilliantly entertaining.
Charlie Bloom remains compelling as our guide into this world, as she finds herself in demand yet again as a talented photographer and potential girlfriend for more than one member!
The settings are as glitzy and atmospheric as the first book too. There's first class lounges in airports, first class flights, stretch limos, awards shows, green rooms and hotel rooms. Despite all these distractions, Chris Russell sticks close to the development of the character dynamics. Yuki and Aiden have bigger parts this time, as does Charlie's friend Melissa, and the introduction of a Fire & Lights fan club makes a big impact on the latter part of the narrative.
It's nice to read the relationships that Charlie has with each of the four members with all their various struggles. Olly is as sweet as ever, Gabriel more mysterious, and Yuki and Aiden turn to Charlie as their confidante.
There's high drama throughout, as tension begins to rise within the band as each of them wrestle with their own demons. There's far less Gabriel in Songs About Us, his presence more felt than seen over the course of the story. He spends a lot of the book seemingly brooding over the mystery surrounding his dead father. It leaves room for the character of Olly to shine and there are some nice scenes involving pizza and photography between Olly and Charlie.
The narrative clips along with no spare plots left in there and it encourages the reader to devour it in one blast. I found it a lot of fun to read and there's plenty yet to be told in the story of Fire & Lights, as their reckless decisions lead to some serious consequences for the band by the end.