Note: I received this title from the publisher through Netgalley in exchange for an honest review.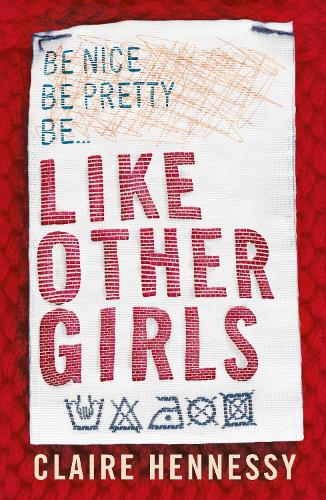 Here's what Lauren knows: she's not like other girls. She also knows it's problematic to say that – what's wrong with girls? She's even fancied some in the past. But if you were stuck in St Agnes, her posh all-girls school, you'd feel like that too. Here everyone's expected to be Perfect Young Ladies, it's even a song in the painfully awful musical they're putting on this year. And obviously said musical is directed by Lauren's arch nemesis.
Under it all though, Lauren's heart is bruised. Her boyfriend thinks she's crazy and her best friend has issues of her own… so when Lauren realises she's facing every teenage girl's worst nightmare, she has nowhere to turn. Maybe she should just give in to everything. Be like other girls. That's all so much easier … right?
Last year's Nothing Tastes as Good was one of my favourites of the year, so I was delighted to see Like Other Girls following soon after. And man, is this one timely. As teased on her Twitter page for a few months now, there is no holding back in any way here in dealing with some of the more sensitive issues in modern society. It is particularly prescient with the current state of affairs in debates around changing the laws around the 8th amendment in Ireland.
But that's far from all that's going on in Like Other Girls. It's a proper exploration of what it means to be a teenage girl, not just in Ireland. Lauren has to put up with the ideas of social norms, fitting in, finding her own tribe, exploring her own sexuality, while then having to deal with as the blurb says, every teenage girl's worst nightmare.
The voice of Lauren from the outset is great – it works well with an emerging second narrative told from 'Before,' which is tuned to perfection in its balance of giving us enough to infer what Lauren is remembering, a traumatic something which happened in the summer before this school year.
Lauren attends the stereotypical yet very true school of contradictions, and her mother is the principal. There is an interesting exploration of the role of Lauren's mother as a principal and as a mother. Claire Hennessy makes the point that there may not be room for both. There is the influence of religion from on high in school, which comes more into play when the more serious nightmares come to pass for Lauren. Particularly brilliant is the scene where Lauren first realises she may be living the nightmare alluded to above (Sorry for vagueness, slight spoiler, just read it!). The overbearing nature of the Church in Irish society is not lost on the reader here, through the ever-present thread of religion in school to the preachy and sometimes straight-up wrong advice to people looking for advice.
The commentary on 'family planning services' in Like Other Girls is startling, even as factual as it is. Lauren finds herself in her nightmare and goes to what seems like a suitable place to go for advice, only to find that they straight up lie to her, a stark reflection of a similar incident in Dublin in recent times.
In terms of teenage relationships, I found it fascinating and great to read about the support group (Q Club) for LGBTQ teenagers that Lauren and her friends attend. Some of the characters here are great and there's lots of exploration of different situations around gender and binary issues here, that will be of particular interest to teenagers reading this. I thought the inclusion of other friends of Lauren's outside of the group was clever too, as it showed that not everyone is as engaged with issues, from LGBTQ rights to abortion to feminism.
At this stage it's expected with Claire Hennessy, but it's worth mentioning that Like Other Girls is also very funny. It carries that dark Irish humour well, across all these serious issues like abortion and alcoholism, in a way that only certain writers can mix the serious and the humorous.
As with most contemporary YA, it's almost impossible to ignore the constant presence of the internet and Claire Hennessy doesn't shy away from it at all. The never-ending chats, the having to be online and then just the general weariness.
'I am too weary for internet fights, for being yelled at by social justice warriors as though I am even worse than the creepy men who think a female protagonist marks the end of civilisation.'
Just wonderful stuff. Like Other Girls is a fast-paced read, with a ticking clock element that makes you want to read on. The presence of so much good, readable, believable dialogue is also great and makes it an immersive read. Like Other Girls has a lot to say, it has anger, and rightly so. It's drawing attention to a polarising topic in Irish society, but one that as Claire Hennessy alludes to in the acknowledgements section will hopefully be 'historical fiction' sooner rather than later.
You can find Claire @chennessybooks and clairehennessy.com, where she posts reviews and blogs about writing in general.