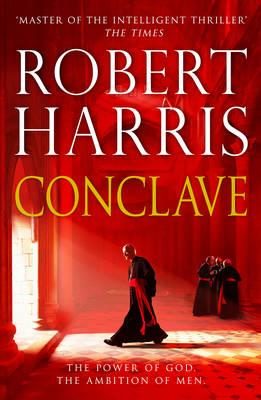 The Pope is dead.
Behind the locked doors of the Sistine Chapel, one hundred and eighteen cardinals from all over the globe will cast their votes in the world's most secretive election.
They are holy men. But they have ambition. And they have rivals.
Over the next seventy-two hours one of them will become the most powerful spiritual figure on earth.
I find myself reading less 'adult' fiction since I've started the blog, mainly due to the unignorable plethora of quality YA authors. When I do read 'adult,' I've tended to stick with a few old favourite authors of mine, which is most definitely the case with Robert Harris.
So we come to Conclave, from the writer of the brilliant Dictator trilogy and other bestsellers like Ghost, Pompeii and Fatherland. Conclave turned out to be a less intricate, but equally engrossing read. It begins with the death of a pope, and takes place exclusively within the walls of the Vatican, with wide-ranging ramifications for the rest of the Catholic world. Our eyes in the story are those of Cardinal Lomeli, the dean of the College of Cardinals tasked with electing the new pope. The rising tension of the secret election added to the cardinal's own crisis of faith make for a claustrophobic time within the walls.
We are introduced in quick succession to the emerging favourites to win the vote and thrown several curveballs along the way to change the narrative of the election. Harris has clearly done his homework, detailing the ancient rituals and customs of the conclave, but has a lot of fun along the way. The mysterious nature of the proceeding allows him licence to imagine all sorts of conflict and skulduggery within the conclave. It makes for what reads like a crime thriller and rips along at a decent pace.
Although a short read, Harris manages to bring the central characters to life while stressing the significance of the outcome to the wider world, as well as of the history attached to the subject matter. His own commentary on the state and function of the modern Catholic Church is also in there, but there's no agenda being pushed here.
To go into the plot beyond the bare bones outlined above would spoil the fun therein. Conclave is an entertaining and light enough read and for me a refreshing change from YA/MG for once. Normal service will resume shortly!