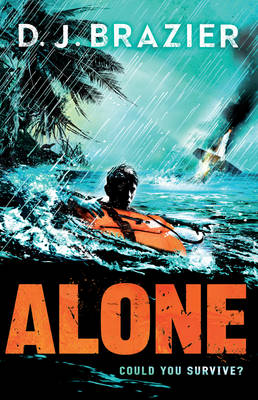 Note: I received this title in exchange for an honest review on NetGalley.   This is no way affects my review and/or opinion on this title.
The trip of a lifetime – that's what it's supposed to be, but when a small plane carrying Sam and his Dad back to the airport crashes in the jungle, Sam is left alone and terrified.
DJ Brazier wastes no time setting up here, as we are plunged into the aftermath of the plane crash, from Sam's perspective. When he is eventually washed ashore, Sam finds himself having to fend for himself.
Alone is at times harrowing for our main character, as he first struggles to even find food and shelter for himself in the wilds of the jungle. Brazier's depth of research brings you right into the jungle alongside Sam, as you read graphic descriptions of his struggles with all classes of insects and animals, from caimans to otters.
The other aspect of Alone which strikes you is the unlikely budding friendship between Sam and a young otter, who finds himself in a similar situation to our main character.
Brazier captures Sam's daily struggle well, while propelling the narrative along by bringing in various obstacles for Sam to overcome, with the mighty river near to his camp, the dangerous wildlife and the challenge of the ever-changing weather.
Alone is an engrossing read and a fine debut novel. Perfect for fans of Bear Grylls, Chris Bradford and Ray Mears.